Products
6FTF-150 Flour Milling Machine
Technical Parameters
Capacity

: 150 tons / 24 hours

Raw grain

: Soft Wheat, Hard Wheat

Workshop Size

: 45*10*11 M

Flour Extraction Rate

: 75-82%
Description
Wheat Flour Milling Machine
Goldrain is a professional manufacturer of grain roller mill from China. We mainly design and manufacture various types of flour milling machines. (wheat flour milling machine, maize flour milling machine and maize grain roller mill). Our flour milling machines are priced at a huge advantage and we sell flour milling machinery all over the world.
Our flour milling machine powder capacity is from 5 ton to 1000 ton per day.
we provide a turnkey project of our machinery ( flour milling machinery mill wheat,flour milling machine corn), including special design, installation, commissioning and training workers.
Total we have 2 designs installation form for the 150 tons/ 24 hours Flour Mill Equipment : triangle-framed workshop and Cement building type.
Here we introduce the Steel structure type:
Wheat Flour Milling Machine Main technical data of Process 150 t/ 24 hours:
Technology in cleaning part: The technology of three screening, two scourer, two destoner, two damper, and three magnetic separator.
Technology in milling part: 10sets of FMFQ8×2 Roller mill,4sets of 6*24K High-efficiency six-section plansifter, 2 sets of Double purifier, consists of the milling technology of four break, six reduction, two coarse, one tail, four purifier, and one checker.
Kinds of final products of Wheat Flour Milling Machine:
1. Flour :
1) Wheat flour: according to the customer`s requirement, the final product can be grade 1 flour, grade 2 flour, standard flour or other special-purpose flour. The quality of flour accords with the requirements of GB1355-86 (China flour standard).
Power supply: About 520kW.
Used under condition: Voltage, 380V; Frequency, 50Hz; Below an elevation of 1200m
2. Dimension of the main workshop: triangle-framed workshop, with 45m long 10m wide and 11m high (under beam).
3. Container: 7×40`
Wheat Flour Milling Machine
Photos in Cleaning Section :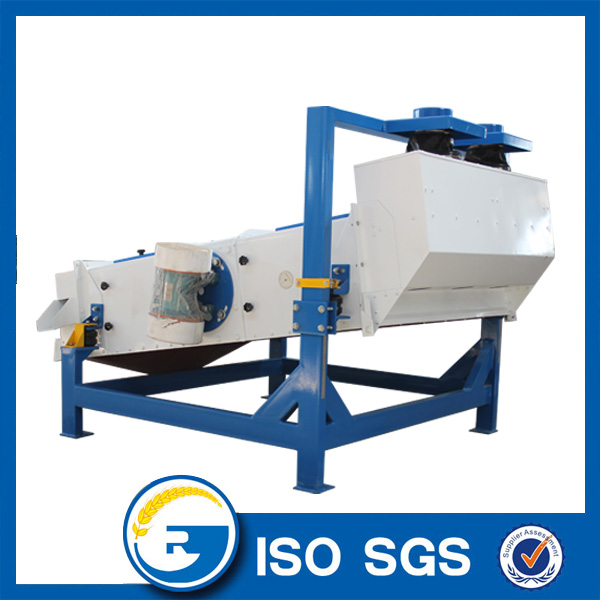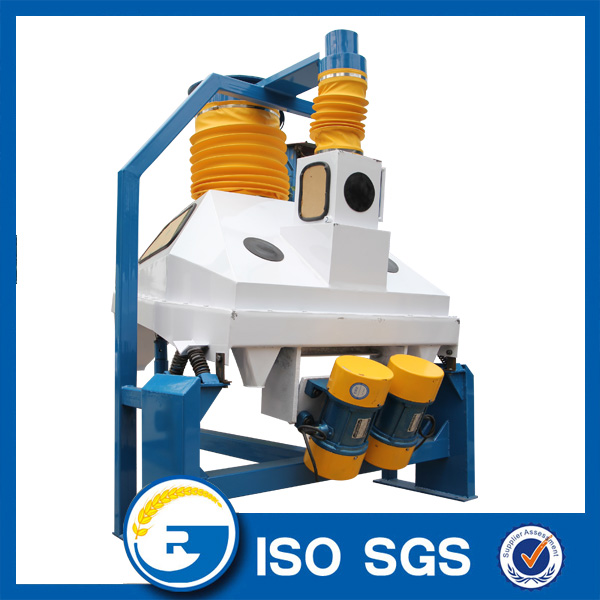 Wheat Flour Milling Machine Photos in Milling Section: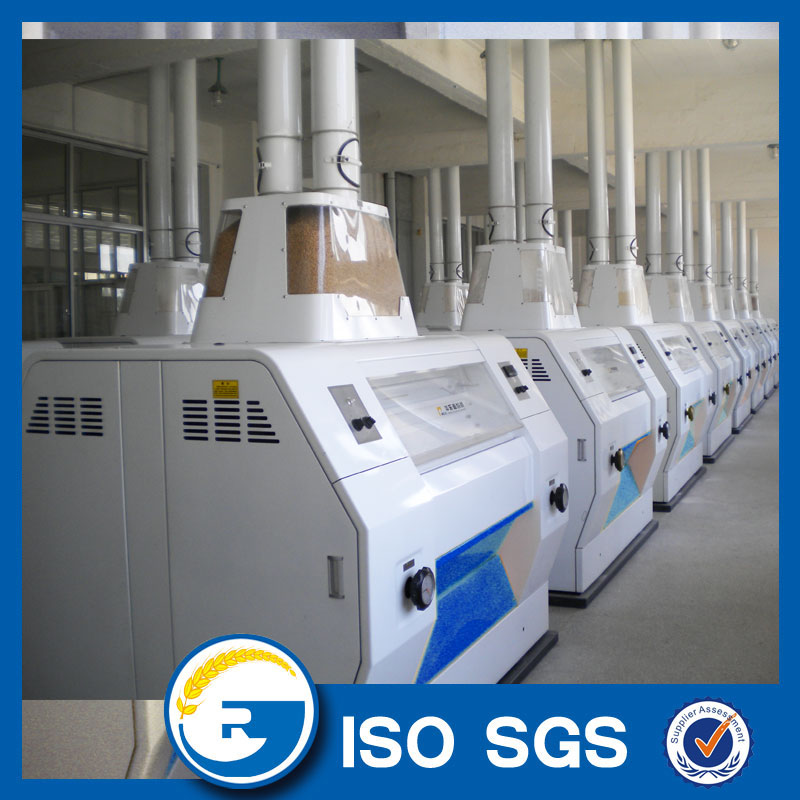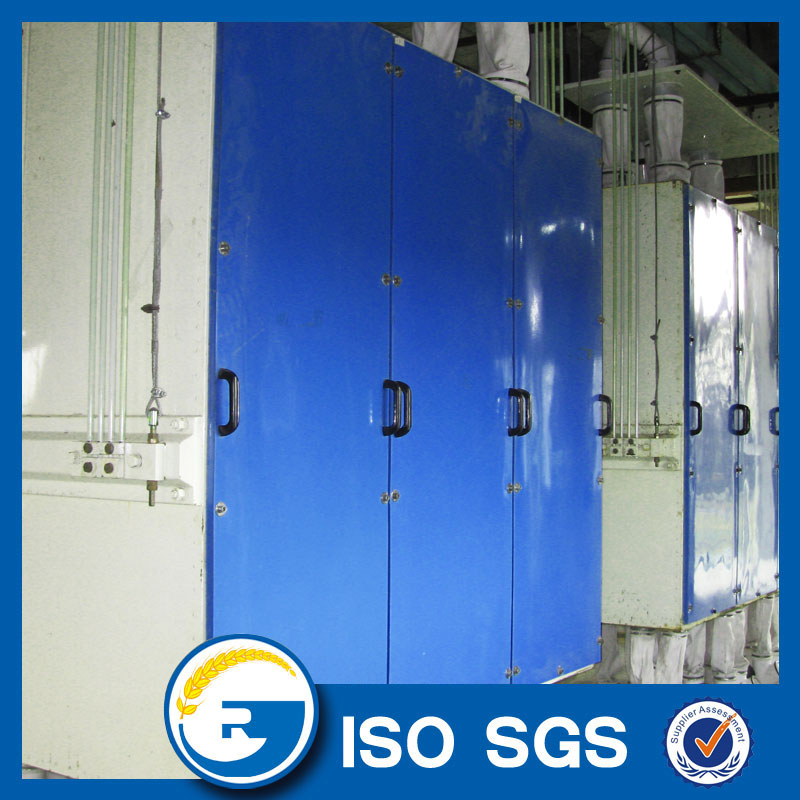 Wheat Flour Milling Machine Photos in Flour Packing Section: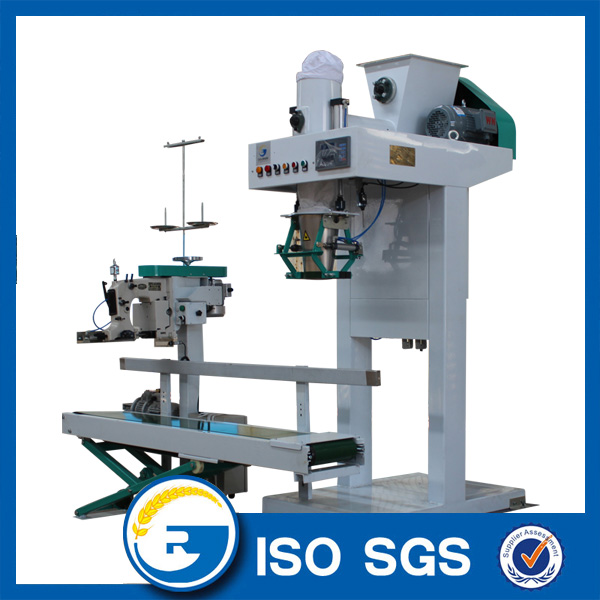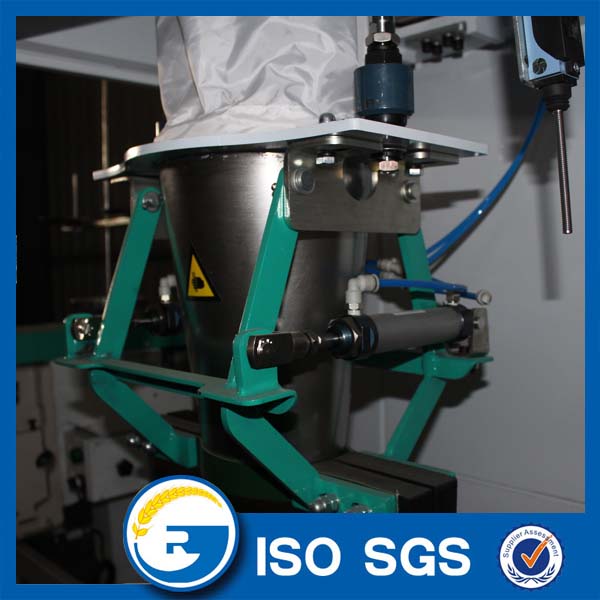 Related Products