Products
6FYDT-200 Corn Flour Plant
Technical Parameters
Capacity

: 200 ton / day

Raw grain

: Maize, Corn

Workshop size

: 39000*12000*19000 mm
Description
The 200 tons per day Corn Flour Plant is the big capacity during corn milling plant, the line can extract super fine corn flour suit for food in daily life, as to the Maize germ and maize bran: 20-25% , we can separate them or not. that is according to whether you use the germ. You know the germ is used for oil, but in
small corn mill line
, such as the
30 ton corn mill line
, you can get very very little germ from the line, and according to our experience, the African people dont separate the germ.
Full Automatic Corn Mill Processing Line Brief introductions:
Cleaning section-------Milling section------Packing section
1. Capacity (maize/24h): Production capacity: 200-250 t/24h
2. Flour extraction:
1) Maize fine flour: 75-80%
2) Maize germ:7-10%
3) Maize bran: 8-15%
3. Guarantee: One Year
4. Backup Service: One year spare part for free.
5. Power supply: 450 kw
6. Total weight of the equipment: 90T
7. Dimension of the factory: 39x12x9 m
8. Container: 40`× 9
Corn Mill Line Process Flow Chart: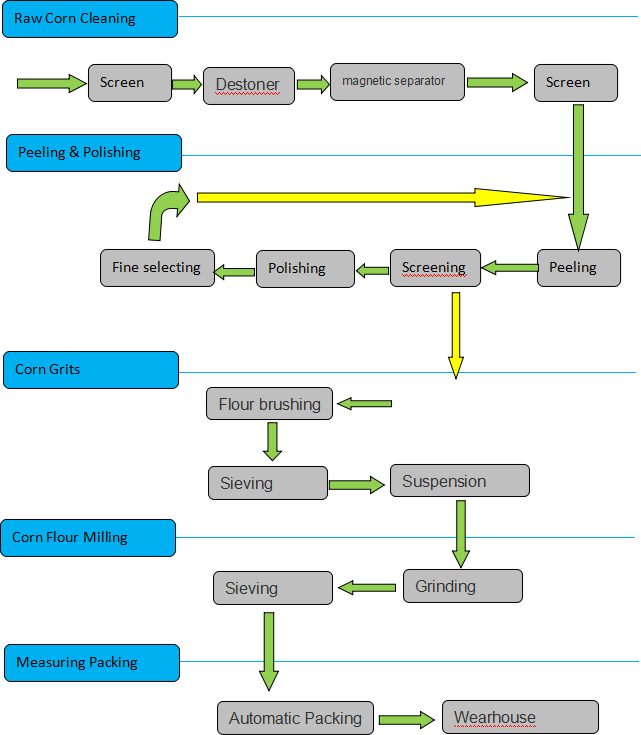 Main Features of Corn Mill Line:
End product Technical index:
1. End products: Corn flour, Corn meal, Germ and Bran
2. Yield rate: grade corn grits, grade corn flour 25-30%. Corn grits and corn flour total yield rate: 75~80%.
3. End products index:
A. Corn flour fineness: 40-200 meshes(the flour fineness is adjustable)
B. Sand content: <0.02%
C. Magnetic metal content: <0.003/kg
D. Moisture: storage type 13.5-14.5%
E. Fat content: 0.5-1%
F. Appearance and taste: even granularity, golden color, smooth kernels, fine powder, pure and natural taste.
Main equipment include : vibrating screen, classifying destoner, air blower, air suction duct, degerminator, germ extraction machine, polishing machine and flat sieve.
Advice for newly foundation of Corn Mill Line:
1. Bran / loss rate
Traditional emery roller peeling technology will result in a lot loss because it can not finish peeling for one time.
2. Price and cost
Price is important, but after-sale service operation cost is also very important, such as motor power, labor cost. With very few wear parts, Our peeling machine and mill machine have very long service life.
3. Installation
Overseas installation is available. We will arrange our engineer to install the machine and train your workers to operate independently...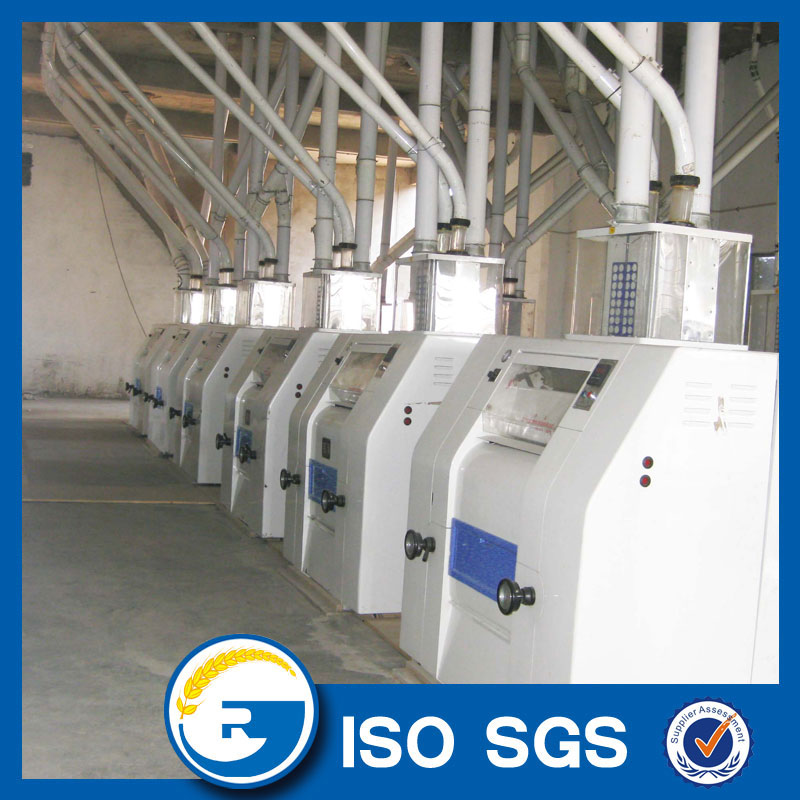 Related Products