Products
6FYDT-150 Maize Flour Milling Machine
Technical Parameters
Capacity

: 150 MT/ 24 Hours

Workshop size

: 36000*10000*8000 mm

Final Products

: Corn Flour,Grits
Description
150 ton / day Maize Flour Milling Machine Brief introduction:
Maize Flour Milling Machine adopts excellent automation solution. It can greatly reduce labor cost and production cost. Our professional designers and engineers team can ensure the advanced technology, which can not only reduce energy consumption, but also reduce the influence to end products by lowing the impurities, dust and bran. Ensure the yield rate and quality reaches or surpasses the national standard .
The Maize Flour Milling Machine is featured as advanced technology, superior good quality, outstanding specificity, reasonable layout, low energy consumption and so on.
Maize Flour Milling Machine Technology features:
1. Low cost:
Comparing with the wet method ,this design requires less water.
2. Dry method:
Dry method processing technology makes the processing more sanitary and cleaner,also the final flour color more brighter.
3. Low loss:
Could reduce albumen loss in peeling/dehulling section.
4. Protect environment :
Dont have so much waste water
Maize Flour Milling Machine Technical Process Flow:
1.Raw grain cleaning section:
Sieving, Destoner, magnetic separator. Equipped with winnowing system, it can remove the big and small impurities.
2. Peeling / Dehulling and degerming section:
adopts twice peeling, once polishing, twice screening and once fine section.
3.Corn grits section:
corn grits milling, flour brushing, sieving classifying and suspending.
4.Flour milling section:
it adopts the technology of several times of grinding and screening.
5. Measuring and packaging section:
The measuring package can adopts manual method or electrical method to reduce amount of labor.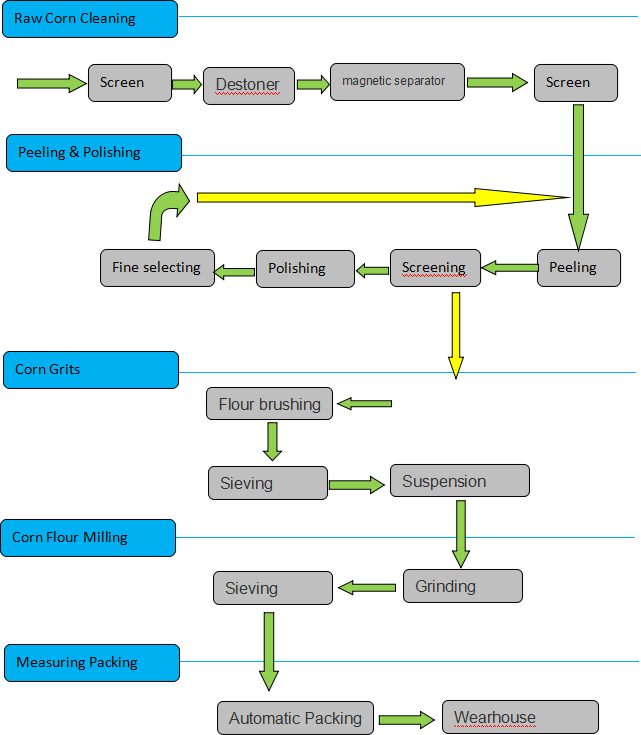 Related Products